The Best Vodka in Canada
What Makes Our Liquor Store Unique?
Like all vodka, our French Laundry is made 60% out of water, but it's still the best vodka in Canada. That being said, you can imagine how unique every vodka brand depends on its location and the quality of water. Don't worry though, products in our liquor store don't taste like water! After working in the liquor production industry for as long as we have, you improve your methods and your ingredients. The French Laundry Silver Series is an incredible finely crafted premium all-Canadian grain spirit.
It is given world-class status by vodka connoisseurs from all parts of the world. It is simply the cleanest, best vodka in Canada with a more than seductively light, crisp initial flavor and a delicate naturally sweet finish. Each batch is handcrafted with all the attention and the love that we have for our products. Rigorous standards of quality are to be met before the best vodka in Saskatchewan can reach our clients. We are proud to sell nothing but the best vodka in Canada.
Silver is because of our treatment methods. Silver has been used for centuries in bacteria control and water treatment. In Russia, silver is used in the production of vodka as a filter, which is called the "Silver Standard". We use this method but we also freeze our spirits at minus 20C° to get rid of any impurities that could be left in our spirits.

The History of Vodka:
There is a big argument between Russian and Polish people as to know who invented vodka but historians agree that it originated somewhere around 1400AD in Northern East Europe. Since then, the popularity of vodka (derived from Voda which means water) has spread around the globe. With new distillation techniques that were brought from western Europe, the Slavic vodka adepts were able to refine the alcoholic drink that would become a trademark of their countries. Later on, the drink arrived in America with humble beginnings. It was not until it was marketed as a cocktail base that it started to become popular. Nowadays, there are a lot of brands and types of vodka across the world that are enjoyed by many customers. One of them is said to be the best vodka in Canada and it's produced right here in Regina.
Award-Winning Vodka Worldwide
We have taken part in the international fine spirits competition and we proudly represented Saskatchewan and Canada. A big part of our newly found international success took place in January 2017 when we decided to train and hire a new master distiller, which changed the whole business for us. We are now on the international scene, winning awards and putting Saskatchewan's fine spirits on the map. We have won several prizes and intend to keep doing our best for YQR Distillery to stay the top distillery in Saskatchewan.
Our Vodka was voted one of the best Vodka in Canada for French Laundry in New York and London. A lot of our other products and our whole distillery has won prices internationally last year as well. We are so proud to have the privilege to sell the best Vodka in Canada and to have the best distillery in Saskatchewan.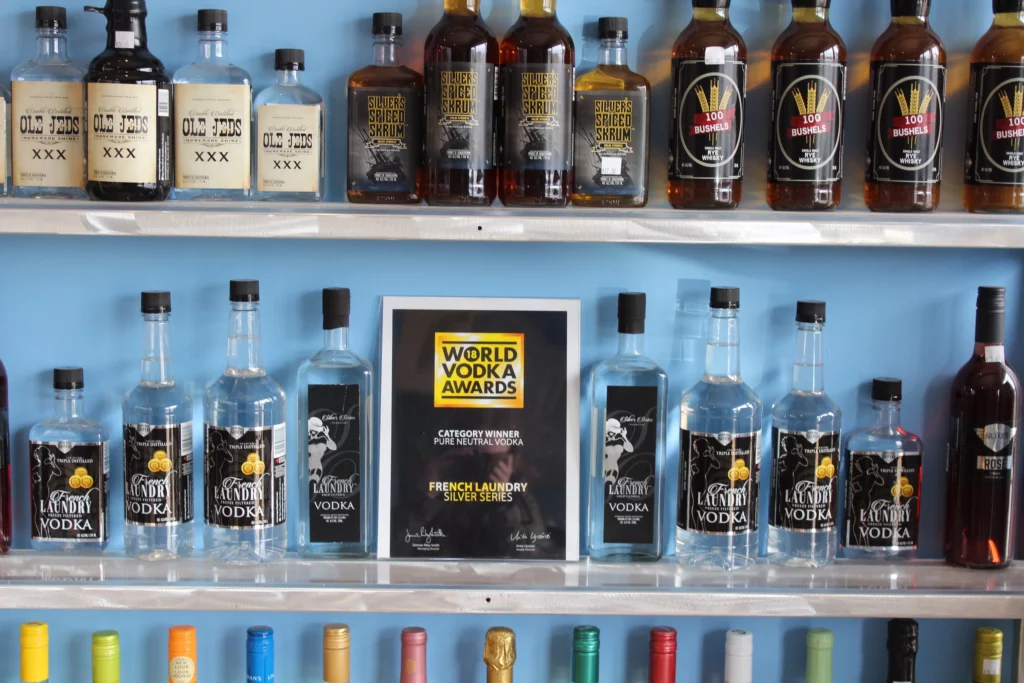 Support Saskatchewan businesses with us
We began as the Sperling family, born and raised in Saskatchewan. We love this province, we are part of its economic and social development. Buying anything in our liquor store is giving your support to your local economy while helping us follow our dream of producing nothing but the best. As the best local distillery in Saskatchewan, we intend to grow that number to be sure that our products are as accessible as possible. We are more than your regular boring liquor store, we also work to create a community through events, partnerships, and by providing liquor to restaurants, bars, and event centers. We distribute award-winning products locally and worldwide.